Streamline Your
Finance Operations
Scale with operational efficiency by integrating your finance and revenue management toolkit into Chargebee.
Comply with GAAP & IFRS to seamlessly standardize your SaaS Accounting with the changing finance landscape.
Automate global tax management for every country, state, and city you're selling to without breaking a sweat.
Derive intelligent insights about your subscription business with billing, leakage, and transaction analytics.
Operations for Recurring Billing
You Set The Billing Rules,
We Automate It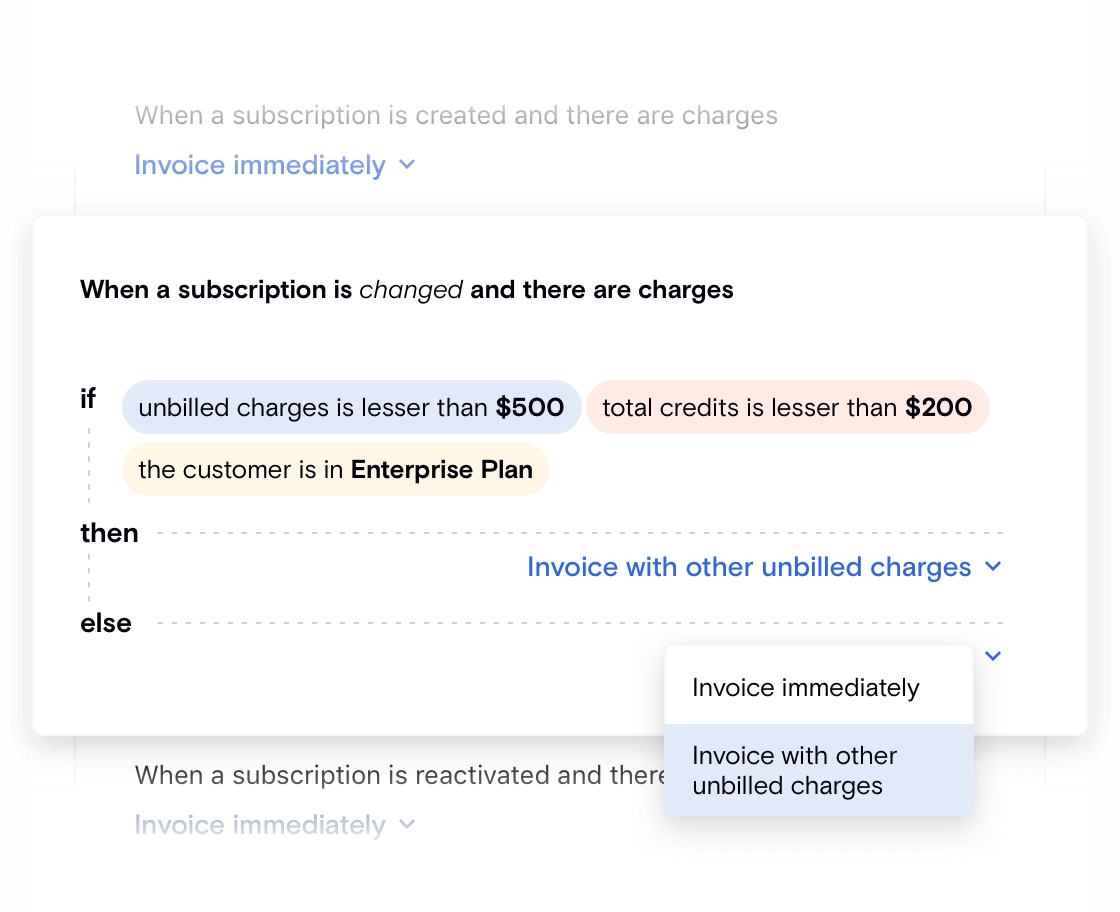 Rules are great when you're trying to streamline your subscription finance processes. When should you bill which customer? How do you calculate prorations? What exchange rate should you be factoring in when you collect payments from Elbonia? But the tougher part is in enforcing them. Thankfully, Chargebee lets you automate your entire recurring billing engine. That way, your revenue operations aren't tied to babysitting your finance rules.

"Our finance team no longer spends long hours on mundane manual work and we now have more time to do financial analysis and make strategic business decisions. [With Chargebee] less time is spent punching in numbers and more time spent is on the big picture"
Pricing & Payment Operations
There Are 62 Ways to Price a SaaS.
Chargebee Supports 63

Flat-fee pricing model? Check. Pay-as-you-go? Check. Super complex mix-of-everything pricing model that dynamically changes every time a user called John visits your website? Kinda check. The ease of creating, managing and collecting on your subscription plans could throw a smile on your lips. But the total control you have on scores of different invoicing operations? That's like a finance ops fantasy.
Reconciliation and Credit Notes
It's Always About the Little Things in Finance Ops
Because it's all those tiny drops of frustration in Finance Ops that add up at the end of the month. Like processing refunds, promotional credits, reversing taxes, and let's not even get started on reconciliation. Negative Invoices are so yeesh. Chargebee lets you handle refunds, adjustments, coupons, or any kind of promotional credits with elegance. And how about a chrome plugin to help you reconcile payment gateway statements on Stripe with your accounting system in just the click of a button? Yup, Chargebee does that.
Reporting and Subscription Analytics
Identify and Seal Revenue Leakage with Finance Reports
Nobody likes a leak. Not in their bathtub, and definitely not in their subscription revenue. SaaS finance analytics reports in Chargebee give you 50+ reports on Billing, Receivables, Leakage, and Transactions. With the AR aging report, Overdue invoice recovery breakdown, and Revenue Leakage summary, you can easily identify the source of leaks and clogs, and fix your recurring revenue plumbing.
Subscription Accounting and Revenue Management
Effortless Subscription Revenue Recognition and Reconciliation
Whether you use Xero or QuickBooks, NetSuite or Intacct, Chargebee syncs right into your accounting solution. Plans, addons, discounts, payments, refunds, bad debts and even ad-hoc charges - all automatically synced into your financial tool of choice. And all that, with GAAP-compliant SaaS revenue recognition and deferred revenue reporting. Oh, and if you're worrying about complying with the latest accounting standards in your next quarterly report, you have it all already.
Drive More Accuracy and Productivity to Your SaaS Finance Operations.